I have been so busy with work and everything else in my life that I didn't even realize that it was already November. I mean, I knew what the date was, but I didn't realize what it meant. Now all of the sudden it is November 13th and Thanksgiving is only two weeks away and Christmas is only six weeks away. The holidays totally
snuck up on me.
Of course I didn't realize that until today. Granted I have thought about it a little bit, enough to think about getting a tree and buy my plane ticket home. But other than that . . . just put it off as if it was so far in the future
I spent a good portion of my day today tying bows for holiday decor projects for some clients. By the end of my day it looked as if Christmas had exploded in my office. And it got me thinking. I need to do some shopping . . . plan out my decorations at home . . . and maybe even think about doing some lights.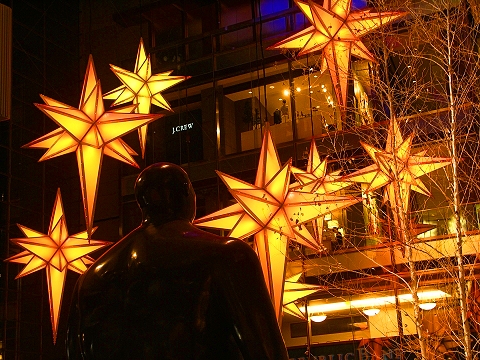 I am a true lover of all things Christmas, especially the lights. As a kid I loved to help my dad with the lights on the house. And now that I am all grown up I may even do some lights on my own house. I realize that I won't be able to do a lot this year, but I want to start making some of those purchases and get my Christmas decorations for my house started. And I really am kind of excited about it.