Just in case you don't know me or don't know much about me, I kinda like the outdoors, plants, nice weather, that kind of stuff. So I am just a little bit excited about the coming spring. I am excited to see my yard come to life and to be able to start spending more time outdoors.

Anyway, so there is this spot in my backyar
d that I have been struggling with what to do with. It is a long narrow bed area that is up against my fence, just an odd spot so I killed the grass there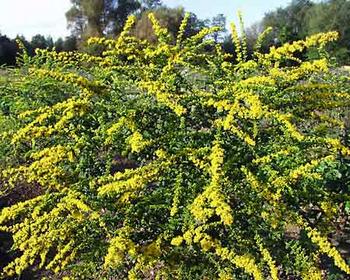 last year and created a bed, but never got it planted with anything. But, I think that I have finally come up with a pallet that I like.
It starts

with Solidago 'Fireworks' which is this kind of crazy yellow flowering
perennial.
Then mixed in the back with t
hat will be the Stachys 'Humello' which I think was the subject of a previous blog post. I really like it if you can't tell.

Them mixed in front of those will be these fun
Echinacea 'Coconut Lime'. I
really just love the form and the color. And
p
lanted
with those to a
dd that little touch of pink that I seem to really need th
ese days will be
Coreopsis 'Heavens Gate' which has dainty bi-color pink flowers.
All of these should combine to create
a nice bed for me. I am going for a nice mixed/naturalized look. I am excited about the variety in color and texture. Once I get them planted and they start flowering this summer I will post a few pictures so that ya'll can see how it turns out.